Construction Programme Software Cost Estimating Solutions for the UK
Sub Contractors, All Trades & Contractors,
Below is our Construction Programming Costing and Management Software for UK builders and sub contractors for the construction industry.
We provide Construction Estimators and Quantity Surveyors with the power to plan, manage and successfully deliver construction projects of any size and complexity using visual simple and quick programming, costing, managing and monitoring power. It is used to create professional estimating plan quickly, manage the contract programme on a live project, record progress, manage labour target requirements and also for client and management reporting.
What makes it truly unique is the way it keeps things simple and how it sits within the industry standard Excel tool. It combines ease of use with 'full power' construction-specific project management usability. It can be used by construction and engineering companies of all sizes to deliver fast performance scheduling pre and post contract. What helps is also the easy management of subcontractors. Prelims, Material, Plant and Access, Labour and other project costs and resources can be monitored from anticipated to actual to changed. You can communicate and collaborate with your team by using this for setting labour targets material ordering etc. Progress reports to can be copied in to other documents or printed to keep your monitoring and reporting up to date.
We feel it is one of the most simple yet powerful modelling tools that can empower you and your team of planners, engineers and managers to develop and maintain a comprehensive and purposeful project plan that is easily shared and understood by all users and trades.
See Initial Setup Screen below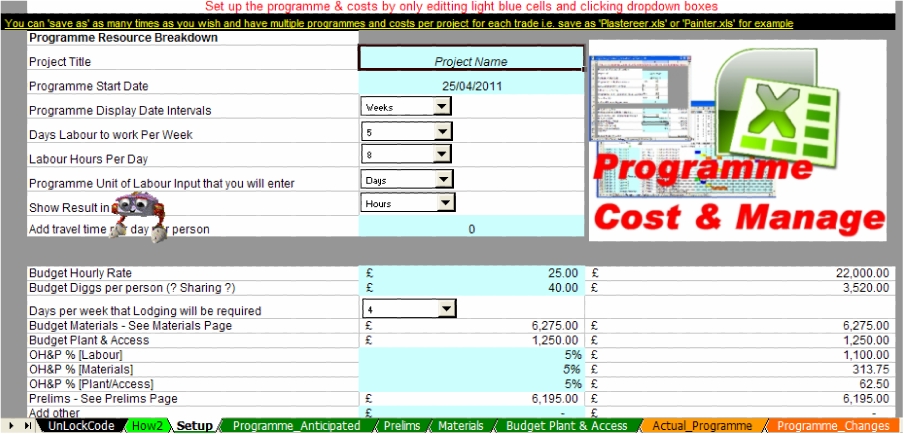 See the Construction Visual Programme Software Screen below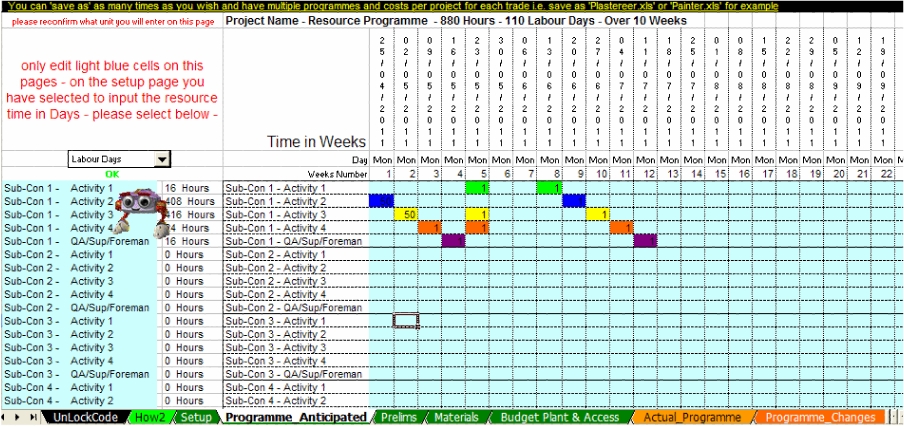 See the Actual Live Construction Visual Programming, where Anticipated is up dated, Screen below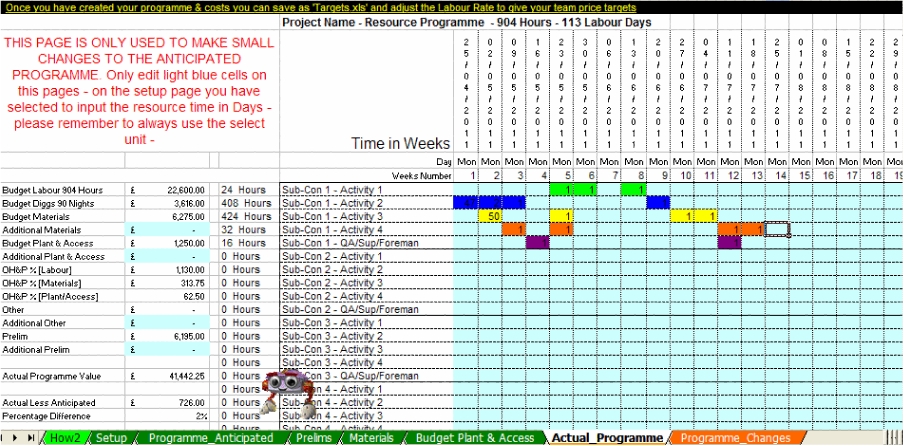 Now on the screen below you can see delays and extensions and the cost/effect of the same on the Programme Changes Screen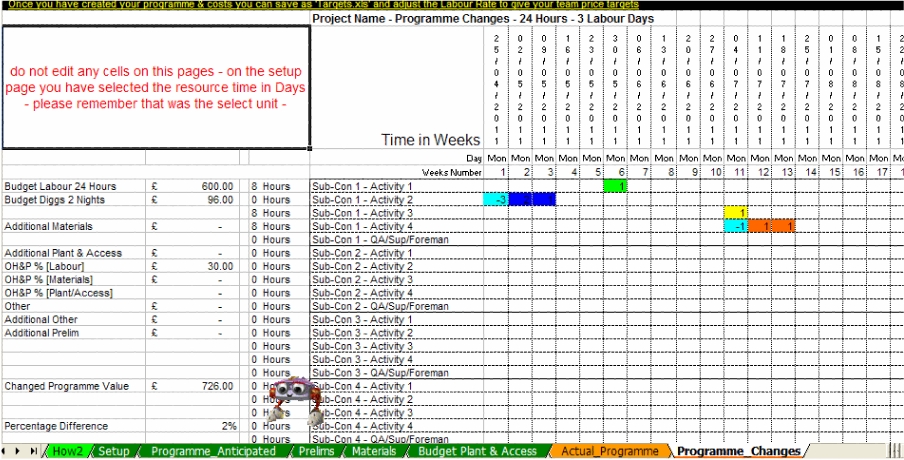 Programme & Costs Press this button to buy our editable and Automated Visual Programming software,From Estimate to Targets to Valuations to Final Account visually anticipate, monitor and report real time progress. An automated way to quickly input data in to an electronic Programme for estimates, valuation, variations, final accounts see the impact of delays and extensions of time or the like, it's delivered by email, which is not a cost, but, pure value...

12 month access

Only £59.99 for 12 months and it's automatically emailed to you after purchase is confirmed with the UnLockCodes

click it > > >

subscribe yearly by credit card by pressing now! £99.99 (charged per year)
Most of the industry packages out there cost an absolute fortune - they tie you up in knots with inflexible processes, so why not try ours - a simple solution